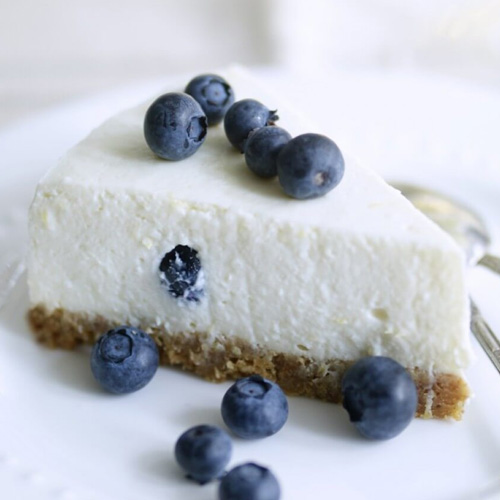 Method
You will need a 20.5cm/8 Inch deep round, loose bottom spring form tin, lightly grease and base lined with baking parchment
1. First make the base, melt the low fat spread in a pan then add the crushed digestives and stir to mix, spoon into tin, spread to cover and press down with the back of a wooden spoon or base of a glass. Leave to cool then put in fridge to chill.
2. Add the gelatine to a small bowl and cover with water, put to one side for about 5 mins to soften. To make the topping, add the cream cheese, Canderel Sugarly, quark and zest and juice of the lemons to a food mixer and beat until combined. Squeeze the water from the gelatine, put it back in a clean bowl and pour in just enough boiling water to cover then whisk with a fork until no lumps. Add it to the cream cheese mixture and beat until well mixed.
3. Stir in a third of the blueberries then spoon mixture over biscuit base and smooth the top. Put back in the fridge and chill overnight then release from tin, top with remaining blueberries and slice to serve.
Cook's tip… use strawberries instead of blueberries if they are in season
Ingredients
50g/2oz low fat spread
150g/5oz digestive lights, crushed
For the Topping
3-4 sheets gelatine, depending on the size of the sheets
2 x 180g pots (360g) half fat cream cheese
100g/31/2 oz Canderel Sugarly
250g pot vanilla quark
Zest and juice of 2 lemons
250g punnet blueberries, reserve some for topping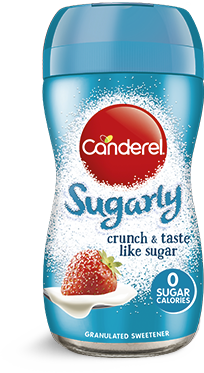 Canderel® Sugarly Nutritionals
Suitable for diabetics as part of a balanced diet and suitable for vegetarians
1/2 Teaspoon = 2g
(Jar contains = 137 servings)
Per Serving
(1/2 teaspoon)
Per 100g
Energy
0kJ
(0 cal)
4kJ
(1 cal)
Fat
0g
0g
of which saturates
0g
0g
Carbohydrate
2g
99g
of which sugars
0g
0g
Protein
0g
0g
Salt
0g
0g