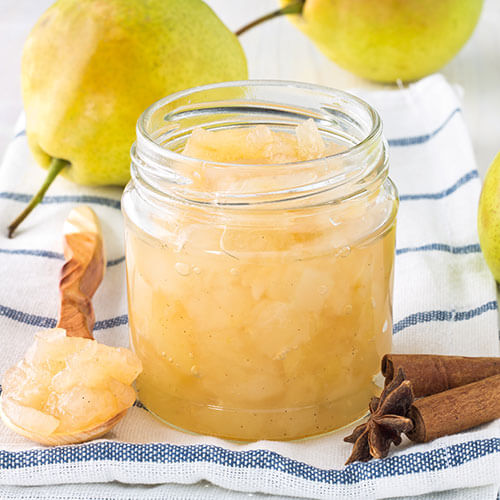 Method
1. Heat the oil in a large heavy based pan, add the onion and cook for a couple of mins then stir in the Canderel Sugarly and cook for a few more mins until softened.
2. Add the pears, cinnamon and nutmeg and stir well to combine then pour in the vinegar, stir again and let it simmer gently for about 20-25 mins until thickened.
3. Remove from heat and either let it cool if using straight away or spoon into a sterilised jar to use later. Add a dollop onto a small split French stick filled with rocket leaves and cooked turkey and dig in!
Cook's tip…You can make this ahead and store in a sterilised jar – the flavours will just get better 
Ingredients
Drizzle of rapeseed oil
1 red onion, finely sliced
25g/1oz Canderel Sugarly
3 pears, peeled, cored and chopped
Pinch cinnamon
Pinch freshly grated nutmeg
125ml/4floz white wine vinegar
For Festive Roll (For 1)
Quarter French stick, sliced down the middle
Handful of wild rocket leaves
Handful of ready cooked turkey slices
2-3tsp festive pear chutney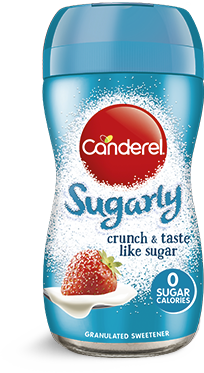 Canderel® Sugarly Nutritionals
Suitable for diabetics as part of a balanced diet and suitable for vegetarians
1/2 Teaspoon = 2g
(Jar contains = 137 servings)
Per Serving
(1/2 teaspoon)
Per 100g
Energy
0kJ
(0 cal)
4kJ
(1 cal)
Fat
0g
0g
of which saturates
0g
0g
Carbohydrate
2g
99g
of which sugars
0g
0g
Protein
0g
0g
Salt
0g
0g