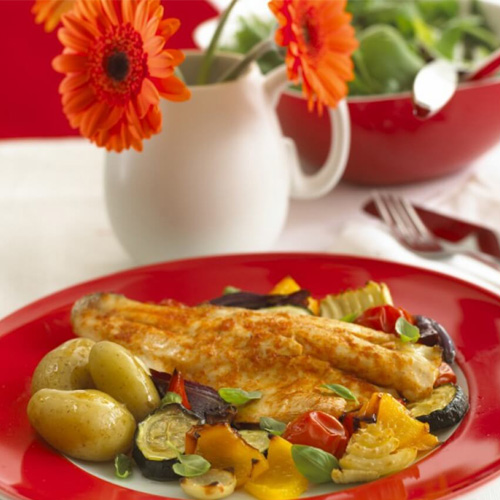 Method
1. Place the fish on a plate or tray. Mix 1 tbsp of the Canderel with the lemon zest and juice, paprika and olive oil, season and brush over the fish. Set aside.
2. Heat the oven to 200C/ gas 6. Place all the vegetables except the tomatoes in a deep roasting tin, drizzle over the oil and toss together, season with salt and pepper and scatter over the remaining Canderel. Place in the oven to roast for 30 minutes.
3. Remove the tin from the oven, place the tomatoes amongst the vegetable, scatter over the basil, then lay the fish on top.
4. Return to the oven and roast for a further 15 minutes, if wished when the tomatoes are cooked, they can be squashed and mixed with the other vegetables.
5. Scatter in the basil leaves. Lift the fish onto serving plates, spooning the vegetables around. Serve with watercress, spinach and rocket salad and boiled new potatoes.
Tip: other varieties of fish would also suit this recipe such as salmon, cod, trout, tilapia or sea bream fillets.
353 kcals per serving
Ingredients
4 x 130g fillets seabass
2 tbsp Canderel granules
Grated zest and juice 1 lemon
½1/2 tsp paprika
2 tsp olive oil
Ratatouille
2 small courgettes, thickly sliced
2 red onions, cut into thick wedges
1 red and 1 yellow pepper, seeded and cut into 3 cm pieces
1 bulb fennel, trimmed and cut into chunks
3-4 cloves garlic, peeled and roughly chopped
250 g cherry tomatoes
1 tbsp olive oil
Small handful basil leaves, roughly shredded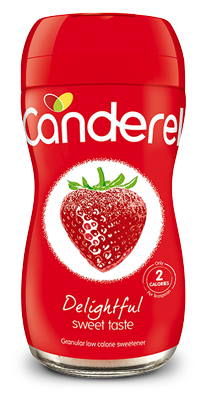 Canderel® Granules
Nutritionals
Suitable for diabetics as part of a balanced diet and suitable for vegetarians
1 Teaspoon = 0.5g (Jar contains 150 teaspoons)
Per teaspoon (0.5g)
Per 100g
Energy
8kJ
(2cal)
1597kJ
(382kcal)
Fat
0g
0g
of which saturates
0g
0g
Carbohydrate
0.5g
94g
of which sugars
0g
7.3g
Protein
0g
1.0g
Salt
0g
0g