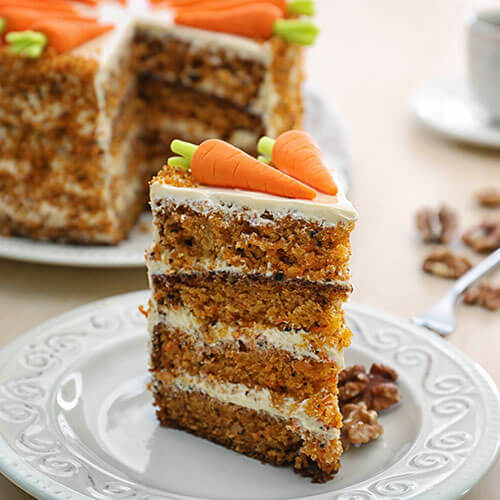 Method
1. Preheat the oven to 180C/gas mark 5. Grease and line a 23cm square cake tin
2. Combine the carrots, orange juice, zest, ground cardamom seeds and milk in a small bowl and set aside
3. With electric beaters whip the eggs and granular Canderel Sugarly until thick and creamy. Gradually add the oil, beating well. Fold the flour into the mixture alternating with the raisins and carrot mixture.
4. Spoon into the cake tin and bake for 40 – 45 minutes until a skewer inserted in the cake comes out clean. When cooked transfer the cake to a wire rack and leave to cool.
5. For the orange syrup, peel the skin from the orange and cut into fine strips. Place in a small saucepan with the juice from the orange and the Canderel Sugarly. Gently bring to a simmer and cook the orange strips for about 5 minutes until softened and the orange juice has reduced slightly and is syrupy.
6. For the topping beat together the cream cheese with the vanilla essence and the granular Canderel Sugarly. Spread over the top of the cake and serve cut into squares with a drizzle of orange syrup.
500 Kcals per serving
Ingredients
2 carrots, finely grated
Juice and rind 1 small orange
Black seeds from 8 cardamon pods, ground in a pestle and mortar
100 ml milk
2 large eggs
125 g Canderel Sugarly
100 ml light olive oil or sunflower oil
350 g self raising flour
50 g raisins, chopped
For the Topping
250 g low fat cream cheese
1/2 tsp vanilla essence
1/2 tbsp Canderel Sugarly
For the Syrup
1 large orange
2 tbsp Canderel Sugarly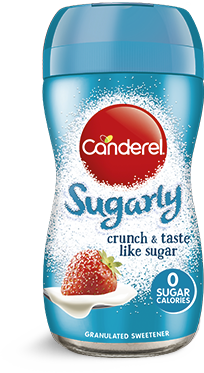 Canderel® Sugarly Nutritionals
Suitable for diabetics as part of a balanced diet and suitable for vegetarians
1/2 Teaspoon = 2g
(Jar contains = 137 servings)
Per Serving
(1/2 teaspoon)
Per 100g
Energy
0kJ
(0 cal)
4kJ
(1 cal)
Fat
0g
0g
of which saturates
0g
0g
Carbohydrate
2g
99g
of which sugars
0g
0g
Protein
0g
0g
Salt
0g
0g