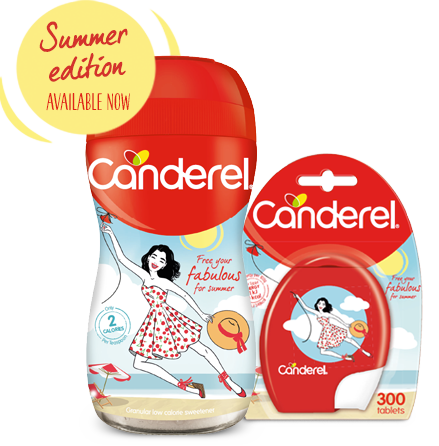 Summer is literally round the corner (we hope) and we all want to look effortlessly amazing. And that's the key… effortlessly. Who needs a strict diet plan: cabbage soup, deconstructed sandwiches without the bread (or the filling) or even so-called meal replacement shakes making you miserable by 9am?
Summer is about enjoying time in the sunshine with friends, dipping your toe into the calming blue ocean with a delicious refreshing cocktail in one hand, and not worrying what you eat. Why should you? Picnics, BBQs, holidays and summer fetes should be enjoyed and not feared for the calorie content.
By using a sugar replacer, like Canderel®, you could save on calories. If you drink four cups of tea or coffee every day, each with two spoons of sugar in, you are consuming 128 calories. Add this up over the year and that's a whopping 46,720 calories – the equivalent of almost 400 Cadbury Curly Wurlys or 204 Mars bars!
Now, you can have guilt-free sorbets, rich dips, and indulgent summer puddings – all without the added sugar. It's not a diet, it's a way of cooking creatively. Impress at your midsummer BBQ with this deliciously light banana ice cream sandwich recipe and save on calories… effortlessly.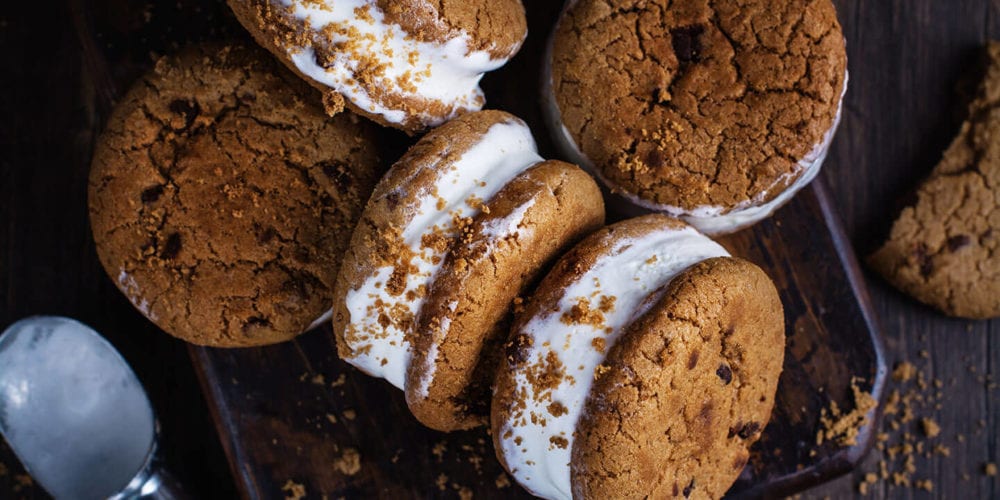 Ingredients
For the cookies:
200g sugar-free peanut butter
75g sugar-free dark chocolate, chopped into chunks
22g Canderel® Original Granules (saving 681 calories from sugar)
1 large egg
Salt
For the ice cream:
3 pre-frozen bananas
2 tbsp. light double cream
1 squeeze Canderel® Zero liquid
Method
For the cookies:
Heat oven to 180C/fan 160C/gas 4 and line two large baking trays with baking paper.
Place peanut butter, Canderel® Original, ¼ tsp salt and chocolate chunks in a bowl and mix.
Add the egg and stir again until the mixture forms a dough-like mixture.
Separate small chunks of mixture and arrange them, evenly spaced, on the baking paper.
Press the dough mixture down with the back of a fork to resemble cookies.
Bake for around 12 mins or until golden around the edges.
Leave to cool completely.
For the ice cream:
Place frozen bananas, light double cream and Canderel® Zero liquid into a food processor and blend to ice cream consistency.
Using an ice cream scoop, spoon balls of ice cream between the cooled cookies and sandwich together.
Enjoy immediately
Diets can go their own sweet way. Do what you want and enjoy sweet and savoury summer dishes that taste great. Who says swapping isn't fun?! Enjoy Canderel® as a sugar substitute… it's delicious!