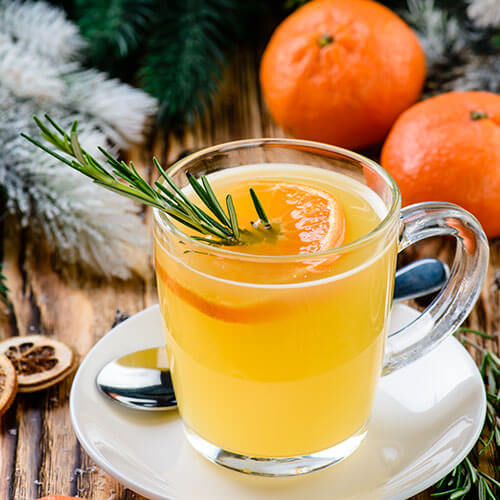 Method
1. Put the cinnamon stick, nutmeg and allspice into a strong plastic bag. Smash with a mallet to crush.
2. Tip the spices into a medium pan and heat to the point of smoking. Remove from the heat, cool 5 minutes then repeat.
3. Add 250ml water and 12 tbsp Canderel bring to simmer and simmer 5 minutes. Strain into a bowl and cool. If possible, strain through a piece of muslin to catch the sediment or use a coffee filter paper.
4. Pour the spice syrup into a jug, add the rum, orange juice and lemon juice, add plenty of ice and the slices of fruit.
5. Serving suggestion: Rub a slice of orange around the rim of the glasses. Mix some Canderel with a little ground cinnamon in a saucer and dip the glasses in.
197 kcals per serving
Ingredients
1 cinnamon stick
1 whole nutmeg
1 tsp allspice berries
12 tbsp Canderel Granules
150 ml dark rum
600 ml unsweetened orange juice
Juice from 3 lemons
Ice
Lemon and orange slices to decorate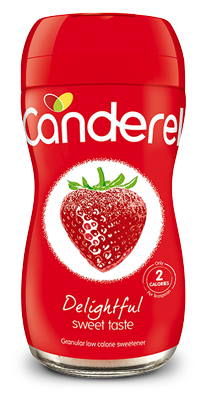 Canderel® Granules
Nutritionals
Suitable for diabetics as part of a balanced diet and suitable for vegetarians
1 Teaspoon = 0.5g (Jar contains 150 teaspoons)
Per teaspoon (0.5g)
Per 100g
Energy
8kJ
(2cal)
1597kJ
(382kcal)
Fat
0g
0g
of which saturates
0g
0g
Carbohydrate
0.5g
94g
of which sugars
0g
7.3g
Protein
0g
1.0g
Salt
0g
0g