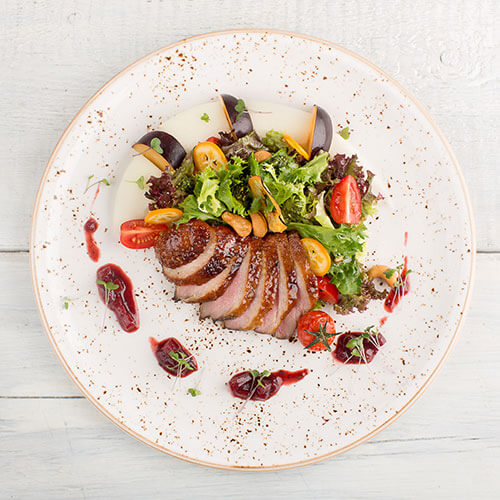 Method
1. Preheat the oven to 200C/Gas 6.
2. First make the plum sauce. Add the plums, ginger and chillies to a pan then sprinkle in the Canderel Sugarly.
3. Stir, then bring to a gentle simmer and then cook on a low heat for about 15-20 minutes, stirring occasionally or until the plums are completely soft.
4. Put to one side and allow to cool for 5 minutes then add to a food processor and whiz until smooth. Return the sauce to the pan and heat for a further few minutes until it begins to thicken. Then put to one side and keep warm.
5. Make 3 slashes across the duck breasts to score, then season with a pinch of sea salt and some freshly ground black pepper rubbing it into the cuts.
6. Heat a griddle pan or frying pan until really hot then add the duck breasts, skin side down and cook for about 3 minutes.
7. Then turn the duck breasts over, add a tbsp of the sauce and cook the other side for a further 3 minutes, spooning over the sauce.
8. Using tongs, lift the duck breasts from the pan, and sit them in a roasting tin and put in the oven to cook for a further 10-15 minutes or cooked to your liking.
9. Remove and leave to rest for 5 minutes then slice and remove skin and serve on top of watercress with the sauce spooned over.
Tip: Prepare the sauce ahead; it will keep in the fridge for up to 3 days, reheat when needed.
175 kcals per serving
Ingredients
2 duck breasts
450 g plums (stones and roughly chopped)
20 g knob of fresh ginger (peeled and grated)
2 red chillies (de-seeded and finely diced)
75 g Canderel Sugarly
1 tsp balsamic vinegar
200 g fresh watercress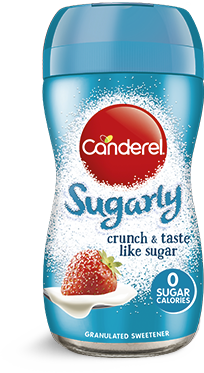 Canderel® Sugarly Nutritionals
Suitable for diabetics as part of a balanced diet and suitable for vegetarians
1/2 Teaspoon = 2g
(Jar contains = 137 servings)
Per Serving
(1/2 teaspoon)
Per 100g
Energy
0kJ
(0 cal)
4kJ
(1 cal)
Fat
0g
0g
of which saturates
0g
0g
Carbohydrate
2g
99g
of which sugars
0g
0g
Protein
0g
0g
Salt
0g
0g