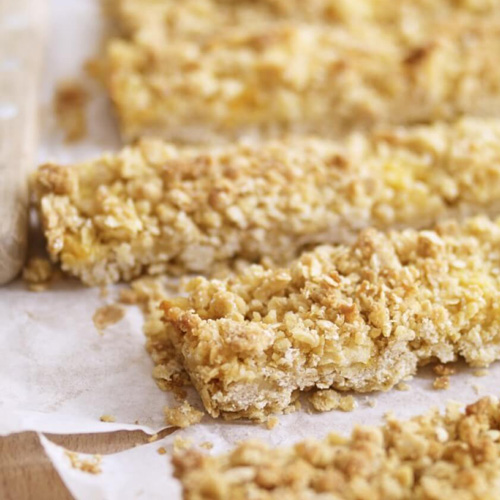 Method
You will need a 28cm/11 Inch x 18cm/7 Inch tin greased and lined with overlapping parchment paper
1. Preheat the oven Gas 4/180C (160C in a fan oven) Melt the low fat spread in a pan add the apples, Canderel Sugarly, nutmeg and allspice and orange zest and juice, stir well to combine and simmer for about 5 mins until apples are tender and they start to break down, remove from hob and put to one side to cool, you may need to mash them slightly.
2. To make the topping, add the flour, oats, Canderel Sugarly and flax seeds to a bowl, melt the low fat spread in a pan and pour into mixture. Stir well to combine until it is a crumb mixture, it doesn't have to be too fine.
3. Spoon half the mixture into the prepared tin, spreading it out so level then top with the apple to cover then sprinkle remaining mixture all over the top. Put in oven and bake for 35-45 mins until golden. Remove from the oven, allow it to cool completely then slice into 16 fingers. Remove bars from tin and keep in an airtight container for up to 1 week.
Cook's tip… To make slicing easy it will hold together better if left in the fridge overnight to firm up before cutting
For a different flavour layer with pear or chopped dates instead of apple
Ingredients
15g/1oz extra light spread
1 tsp Canderel Sugarly
3 eating apples, peeled, cored and thinly sliced (tossed in lemon juice to avoid discoloration)
Pinch freshly grated nutmeg
Pinch ground allspice
Zest and juice of 1 orange
For the Topping
150g/5oz plain flour
100g/31/2oz rolled oats
25g/2oz Canderel Sugarly
3 tsp flax seeds
100g/31/2oz low fat spread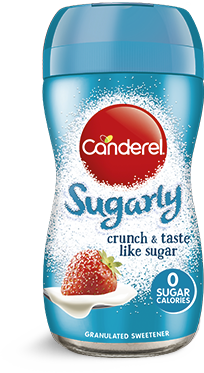 Canderel® Sugarly Nutritionals
Suitable for diabetics as part of a balanced diet and suitable for vegetarians
1/2 Teaspoon = 2g
(Jar contains = 137 servings)
Per Serving
(1/2 teaspoon)
Per 100g
Energy
0kJ
(0 cal)
4kJ
(1 cal)
Fat
0g
0g
of which saturates
0g
0g
Carbohydrate
2g
99g
of which sugars
0g
0g
Protein
0g
0g
Salt
0g
0g