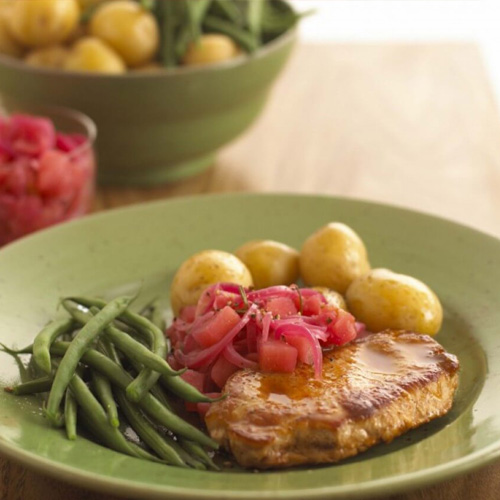 Method
1. To make the relish Place all the ingredients into a large pan, and slowly bring to the boil. Reduce the heat and simmer uncovered for 20-25 minutes stirring from time to time until the apples are tender and the liquid has reduced.
2. Meanwhile season the pork chops, and heat a large non-stick frying pan. Lightly spray one side of the chops with spray oil, then place oil side down in the hot pan to sear and brown for 2-3 minutes each side.
3. Pour over the cider, add the Canderel and Worcestershire sauce and simmer for 15-20 minutes until the chops are tender and the liquid has reduced to about 6 tablespoons.
4. Remove the chops to warm plates, spoon over the juices from the pan and top with the apple relish.
5. Serve with green beans and new potatoes.
338 kcals per serving
Ingredients
For the Relish
3 dessert apples (peeled cored and chopped)
1 medium red onion (thinly sliced)
3 tbsp Canderel Granules
200ml low alcohol cider
2 tbsp cider vinegar
3 tsp chopped rosemary spikes
For the Chops
4 x 140g lean pork loin chops
1 spray oil
1 pinch of salt and pepper
300 ml low alcohol cider
2 tsp Canderel Granules
1 tsp worcestershire sauce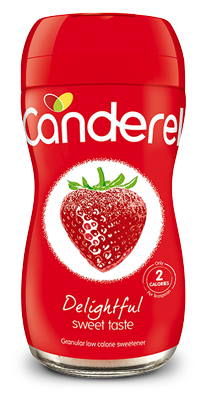 Canderel® Granules
Nutritionals
Suitable for diabetics as part of a balanced diet and suitable for vegetarians
1 Teaspoon = 0.5g (Jar contains 150 teaspoons)
Per teaspoon (0.5g)
Per 100g
Energy
8kJ
(2cal)
1597kJ
(382kcal)
Fat
0g
0g
of which saturates
0g
0g
Carbohydrate
0.5g
94g
of which sugars
0g
7.3g
Protein
0g
1.0g
Salt
0g
0g