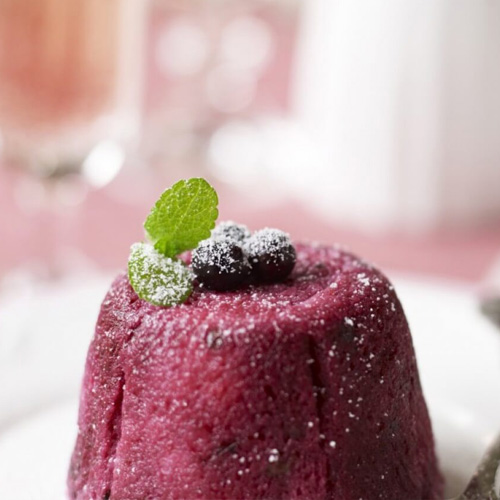 Method
1. To start, you will need 4 mini pudding bowls lined with cling film. Drain the fruit into a bowl, reserving the juice and a few berries for decoration and mix with the Canderel Sugarly. Put to one side.
2. Using the pudding basin, cut out 4 rounds of bread for the base then dip these in the reserved juice and sit them in the prepared mini pudding bowls.
3. Now dip each finger of bread into the juice and sit these inside the pudding bowls, overlapping them slightly.
4. Spoon in the fruit and press so tightly packed then cut out 4 tops using a metal cutter or a small saucer. Dip this in the juice and press tightly on top.
5. Cover with the cling film and sit something heavy on top of each pudding and put in the fridge to firm up overnight. When ready to serve remove the puddings from the bowls and invert onto a small plate.
6. Decorate with berries or redcurrants or a lavender stalk. Dust with Canderel Sugarly if you wish and serve with some low fat cream or creme fraiche.
200 kcals per serving

Ingredients
12 slices of medium sliced white bread crusts removed, halved and cut into fingers
8 slices (of bread) reserved for base and top
500 g pack of frozen summer mixed fruits, defrosted
1/2-1 tsp of Canderel Sugarly (more if using fresh tart fruit)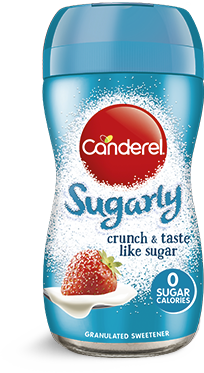 Canderel® Sugarly Nutritionals
Suitable for diabetics as part of a balanced diet and suitable for vegetarians
1/2 Teaspoon = 2g
(Jar contains = 137 servings)
Per Serving
(1/2 teaspoon)
Per 100g
Energy
0kJ
(0 cal)
4kJ
(1 cal)
Fat
0g
0g
of which saturates
0g
0g
Carbohydrate
2g
99g
of which sugars
0g
0g
Protein
0g
0g
Salt
0g
0g