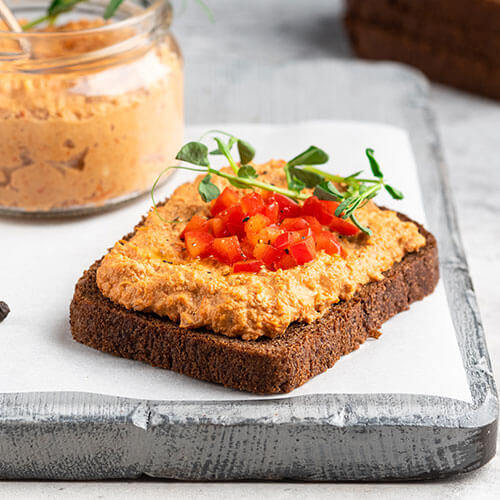 Method
1. Preheat oven to 200C (400F) Gas 6.
2. Put the peppers and onion in a roasting tin, spreading them out so they have plenty of room and they roast rather than steam. Drizzle over the oil, sprinkle with the Canderel Sugarly and a pinch of sea salt and some freshly ground black pepper.
3. Using your hands tumble it all together. Roast for 20 – 30 minutes, until the peppers are soft and beginning to char very slightly.
4. Allow to cool for a few minutes, then tip it into a food processor. Then add the chilli flakes, garlic and cream cheese and whiz until smooth.
5. Add the basil leaves and whiz briefly until it is flecked. Taste and adjust seasoning as needed. Serve on mini toast rounds or mini bruschetta. Top with a small basil leaf for serving.
Tip: If you have any leftover you can stir it into a pasta sauce.
8 kcal per serving

Ingredients
2 red peppers (de-seeded and roughly chopped)
1/2 tbsp olive oil
1/2 tsp Canderel Sugarly
1/2 red onion (roughly chopped)
1 pinch of chilli flakes
1 garlic clove (grated)
1 tbsp low fat cream cheese
1 small handful fresh basil leaves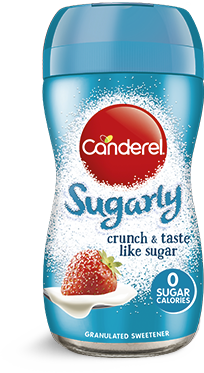 Canderel® Sugarly Nutritionals
Suitable for diabetics as part of a balanced diet and suitable for vegetarians
1/2 Teaspoon = 2g
(Jar contains = 137 servings)
Per Serving
(1/2 teaspoon)
Per 100g
Energy
0kJ
(0 cal)
4kJ
(1 cal)
Fat
0g
0g
of which saturates
0g
0g
Carbohydrate
2g
99g
of which sugars
0g
0g
Protein
0g
0g
Salt
0g
0g