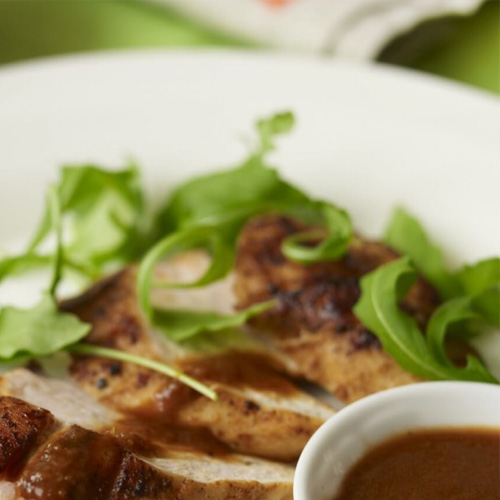 Method
1. Preheat the oven to 200 C / Gas mark 6. Make 3 slashes across each of the chicken breasts to score, then season well with sea salt, freshly ground black pepper and cayenne pepper and rub it into the cuts.
2. Heat a frying pan over a fairly high heat then add the chicken breasts to the pan skin-side down and fry until the skin is golden, about 5 minutes. Use a spoon to remove any excess fat from the bottom of the pan. Turn the breasts over and cook for a further minute.
3. Using tongs, remove the chicken from the pan and sit in a roasting tin. Put in the oven and cook for about 30-40 minutes or until the chicken is cooked through. Remove and leave to rest.
4. Bring to the boil and bubble then reduce to a simmer and cook for about 5 minutes or until it begins to thicken slightly. Taste and season as required.
5. Now slice the chicken breasts on the diagonal, remove the skin and spoon over the hot sauce to serve. Serve with leaves and new potatoes.
170 kcals per serving
Ingredients
4 chicken breasts (skin on)
1 pinch cayenne pepper
100 ml chicken stock
2 tbsp dark soy Sauce
2 tbsp rice wine vinegar
1/2 tbsp Canderel Sugarly
5 cm piece of fresh ginger (peeled and grated)
1 tsp tomato puree
1 red chilli (de-seeded and finely chopped)
Juice of a 1/2 Lime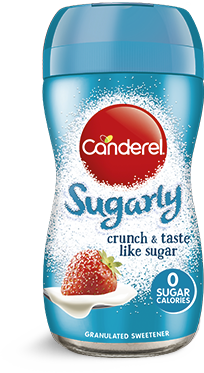 Canderel® Sugarly Nutritionals
Suitable for diabetics as part of a balanced diet and suitable for vegetarians
1/2 Teaspoon = 2g
(Jar contains = 137 servings)
Per Serving
(1/2 teaspoon)
Per 100g
Energy
0kJ
(0 cal)
4kJ
(1 cal)
Fat
0g
0g
of which saturates
0g
0g
Carbohydrate
2g
99g
of which sugars
0g
0g
Protein
0g
0g
Salt
0g
0g